Dr. Robin N. Coger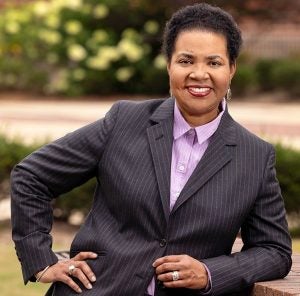 Dr. Robin N. Coger is an experienced leader with a demonstrated record of success in higher education. She is the Provost and Senior Vice Chancellor for Academic Affairs and a Professor of Engineering at East Carolina University (ECU) in Greenville, NC. ECU's strong academic portfolio is characterized by excellence and a commitment to student success, public service and regional transformation. Learning at ECU spans baccalaureate, master's, doctoral, medical and dental degrees, a wide portfolio of relevant certificate programs, plus rich opportunities across the University for our students to apply their discipline-specific knowledge through experiential learning, clinical and other experiences dedicated to preparing students for leading in their professions upon graduation and program completion.
Dr. Coger has served as an innovative leader, professor, and scholar within the UNC System for over 26 years, most recently as the dean of the College of Engineering at North Carolina A&T State University, and prior to that as a dedicated faculty member, researcher, center director and administrator at the University of North Carolina at Charlotte. She has a strong track record of building strategic partnerships for the benefit of students, faculty, academics and research.
Dr. Coger's technical research expertise is in solving design and performance problems related to tissue engineered organs, with special emphasis on liver replacement devices and their safe storage for off-the-shelf availability. She also has deep experience in working within teams to develop strategies for strengthening academic institutions and their partnerships. Her work has been supported by grants from the National Institutes of Health, the National Science Foundation, and other federal agencies, and has resulted in numerous publications, one patent, and two other patent applications. Dr. Coger has been awarded for her excellence in research, teaching, and mentoring throughout her career, and is actively engaged in collaborations that advance faculty, innovative ventures, and student competitiveness.
Dr. Coger is a fellow of the American Society of Mechanical Engineers and of the American Institute for Medical and Biological Engineering. She serves on the National Science Foundation's Directorate for Engineering Advisory Committee. She is also a Board member of FIRST – an organization founded to inspire the interest and participation of young people in engineering, science and technology. Aligned with Dr. Coger's understanding of the importance of sharing best practices and concepts among engineering educators, she is also a member of the editorial board of the American Society of Engineering Education publication, PRISM.
Dr. Coger earned a Bachelor of Science from Cornell University, and her Master of Science and Doctoral degrees from the University of California – Berkeley, all in Mechanical Engineering. She also completed her post-doctoral research as a fellow at Harvard Medical School and the Department of Surgery at Massachusetts General Hospital in Boston.